Our management philosophy is based on responsibility and mutual respect. People who work at DDR do so because of their passion for dogs. The entire team will make excellent treatment of dogs and clients priority number one. Our staff currently includes one full-time instructor, one full-time daycare coordinator and several part-time daycare employees.
---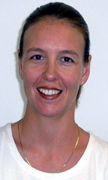 Nancy Dryden
Owner/Sr. Instructor
ndryden@doggydorightschool.com
Nancy Dryden, owner/manager and trainer, received her bachelors degree in Psychology from McDaniel College in 1993. Shortly after, Nancy decided she wanted to pursue becoming a professional dog trainer and enrolled at West Virginia Canine College and received her certificate from the accredited college in the fall of 1996. Her instruction at the college included obedience (on and off-leash), tracking, protection and agility work. Immediately, Nancy opened Doggy Do Right as a sole proprietor, and began obedience training in the Maryland area. Most training was private in home training for both puppies and adult dogs, but group classes were also offered. In December 2001, Nancy moved to Leesburg, VA where she became a full time trainer at The Dog School of Leesburg. There, Nancy continued private obedience training including puppy kindergarten and basic obedience for older dogs. Nancy's experience ranges from basic obedience and problem solving with puppies up to adult dogs, including experience with aggressive behavior. Nancy resides with her husband, Cameron, canine companions; Bjork, a Boxer Mix, and Nando, a German Shepherd. Nando earned his CD, taking first place in two out of three shows.